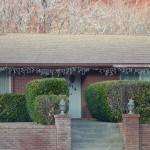 It has been observed around town that there are still some residents who have not taken down last year's Christmas lighting. For all we know, they may be left there from previous years!
The mayor addressed the subject in city council this week due to the number of complaints from citizens about neighbors who still have their holiday lights displayed, particularly the lighted "ice cycle" type.
"Because we have now reached the midpoint of the year," stated the mayor, "It seems prudent to allow residents to keep their holiday lights up. Heck, they will just take them down and have to put them up again."
The city's legal counselor advised the city council that there is no law requiring residents to take down their lights after Christmas and therefore requiring them to do so was not lawful.
Merry Christmas to you folks that still display the holiday spirit!