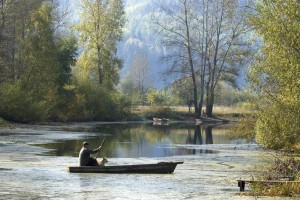 GOOSEBURY—A gasoline and oil mixture, leaking from a five-gallon can, spilled into Goosebury pond after falling from Elmer Fitswater's 12-foot aluminum fishing boat in a first-of-a-kind incident in this local community.
Fitswater, who was attempting to refill the tank on his Evinrude outboard motor, accidentally dropped the gas can into the pond. Before the can could be recovered, all five gallons had spilled from the container into the crystal-clear waters of the pond.
The Goosebury Park Patrol, which has jurisdiction over the pond, determined that most of the damage was caused when the gas and oil mixture drifted into the kiddie wading area, causing five year Bobby Broadkin to break out in a rash.
Disciplinary action will be discussed in the next meeting of the city council.
In seemingly related developments, Fred Zimms, owner of Fred's Supersave Gas-o-mat and Nail Salon immediately raised the price of unleaded gas from $3.89 to $4.29 per gallon in response to the incident.