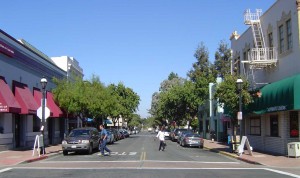 Welcome to Goosebury, USA, the heart of America!  We are assuming that you are here because you want to know more about our city, our way of life, and maybe even our university. You have just arrived in the center of the good old USA . We're like a trip on old Route 66 which traveled through the heartland of America.
We promote good old-fashioned values, ethics, religion and mom's apple pie. The song "Oakie from Muskogee" could have originated here, and some residents say it did. This song could be our city anthem, if a city had one. We salute the flag and we respect our neighbors. We go to church and we post the ten commandments down at the courthouse. We treat visitors like they were family and find that they come back often. We have a pretty simple view of things, particularly our nation's way of life. And we have a sense of humor!
Goosebury also has a great university, Goosebury State. Our football team has one of the nation's longest losing streaks, but we still support them. We sit in the stands and cheer like they are playing for the national championship. At halftime we line up for hotdogs and gooseberry juice. We wear the colors and the next week all we can talk about at Jed's Barbershop is how we are going to win next week. We seldom do, but we can always hope.
The town got it's name from the abundance of gooseberries that grow throughout the area. And yes, we know, our town name is spelled differently, but years ago the townfolk decided that "berry" wasn't a very sophisticated name and that "bury" sounded more dignified. So the name was changed to protect our dignity, but we still are the nation's capital for gooseberries and our world-famous gooseberry (bury) juice and smoothies. You'll see it spelled both ways. It all tastes the same.
We invite you to stay awhile and keep up on the local news in the Goosebury Observer. We have some fine shops and sites to see. Take a stroll down Goosebury Blvd. and tip your hat to the ladies.  You might just want to stick around for a concert, go to an art show, or maybe even attend a football game.
The great thing about Goosebury is that it won't cost you any gas money to get here. Stay as long as you like. Check into Clara's Motel and Laundromat and stay the night, she'll be glad to see you. Arnie starts serving breakfast at 6am at the Arnie's Chew and Go. Don't miss his Goosebury omelette and win a prize if you guess that day's secret omelette ingredient!
Now go have fun!